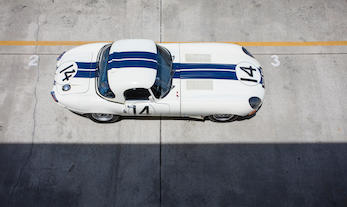 Tall stature, dark curly hair, who does not know the sailor, designer and racing driver
Briggs Swift Cunningham
. It's hard to imagine the history of racing in recent years without him and his white racing cars with the broad blue double stripes. At first he drove his own constructions, later it was well-known brands such as Chevrolet, Maserati, Porsche or Jaguar. The last named, a number 14 Jaguar Lightweight, is now up for auction at Bonhams on 19th September at Quail Auction. It was the 7th of a total of 12 produced E-Type Competition Lightweight with aluminum body and aluminum hardtop, which was built in Coventry. The target number of 18 Lightweight was never reached.
In the early 1960's the new Jaguar E-Type was one of the top sports cars on the world's roads, but what's the use if you haven't proven yourself on the race track with this car. One who could change it was the American Cunningham, who already raced the D-Type and later the prototype E2A. In 1962, Briggs Cunningham and
Roy Salvadori
finished 4th in the
24 Hours of Le Mans
in an E-Type. This led Cunningham competing again in 1963 with three Jaguar E-Type Lightweights. The number 14 (serial no.
850664
) retired early with gearbox damage. The number 16 (serial no.
850665
) collided after 6 hours with the Renault Alpine of
Christian "Bino" Heins
, who was killed while Roy Salvadori was seriously injured. The number 15 (serial no.
850659
) kissed the straw bales behind the "Mulsanne" on Sunday morning at 265 km/h after a brake damage, was immediately set again with parts of the number 14 and with Briggs Cunningham and Bob Grossman at the wheel, finished 9th out of a total of 12 remaining vehicles - WAU.
After Le Mans, the car came to America and in September 1963 drove for Cunningham the
Road of America 500
and the
Bridgehampton 500
, where he finished 11th and 4th respectively. After the dissolution of the Cunningham racing team in 1963, he found a place in the Cunningham Museum in Costa Mesa. After being owned by Jaguar enthusiast Robert Lane, it found its way back to England in 1973 when
Sir Anthony Bamford
bought it for his collection. In England it took part in numerous classic races under different owners, including an accident at
Silverstone
. In the 1980s it underwent several renovations and conversions among others by Lynx Engineering. It must have been worth it in the end as in 1994 it trailed all other Jaguars in the Coys Festival GT race. After appearing again and again at various major events, such as the
Goodwood Revival of Speed
, in 2003 he left the continent and went back to California. Found a place there for a short time in
Don Williams' Blackhawk Collection
, from which he was sold to a collector from Hong Kong soon.