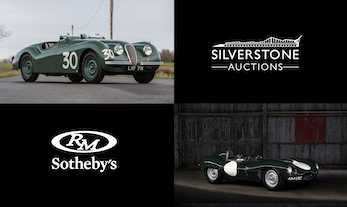 The new year is just awakening from its hibernation, as the first big auctions begin and with it the chance to acquire history, provided you have the necessary "small money". For us Jaguar crazy, two dates next month are very interesting. On February 5th, in the heart of Paris, at the feet of Napoleon Bonaparte, Place Vauban, the first large vintage car auction of the auction house
RM Sotheby's
on the old continent rises. With the lot number 171 a Jaguar D-Type "Shortnose" with the chassis No.
XKD520
. After its completion in 1955, his path led him directly to the other side of the world to Australia to his first owner the racing driver
Bib Stillwell
. Not only did the car compete in well-known races for many years and achieved some victories, such as the Bathurst Road Racing Championship in 1956.
The second event will take place on 22 and 23 February at Stoneleigh Park, Kenilworth near Coventry, the first Silverstone auction this year at Race Retro 2020. Under the hammer, the legendary Jaguar XK120 OTS lands in its distinctive green with the chassis No.
660332
, with whom
Duncan Hamilton
competed in his first races in a Jaguar, at the end of which in 1953 the overall victory in the
24 Hours of Le Mans
stands. We'll see how the two famous Jaguars beat each other and whether they get a new home. I'll stick to it and report again at the end of next month.