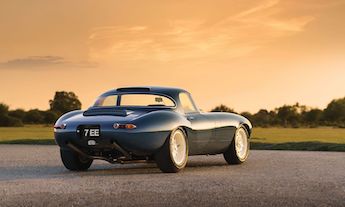 Actually, I have to admit right at the beginning that I only ever have in mind the Jaguar XKs and E-Types, who experienced their birth in Coventry and which one would commonly refer to as "the originals". But again and again in my daily research these breathtaking cats appear in my eye-catcher, which captivate me again and again with their simple elegance as soon as I see them. I am talking about the transformations that a small company produces on the basis of original vehicles - called the Eagle E-Types.
Eagle,
based in the tranquil Uckfield in Sussex, has been in existence since 1984 and takes care of all aspects such as service, upgrades and restorations related to the Jaguar E-Type. Now one could say that many others do the same, if it were not for the founder Henry Pearman whose visions have ensured that since 1991, with the Eagle Speedster No.1, an E-Type populates the streets, of which one could say: "If one were to develop the E-Type in the present day, it could look like this".
After the Eagle E-Type Speedster, the Eagle E-Type Low Drag GT and the Eagle E-Type Spyder GT, the Eagle E-Type Lightweight GT has been offered since June 2020. The model for this is the legendary original lightweight from 1963, of which Jaguar Cars recently redesigned the last missing six vehicles in its Heritage Workshop in Browns Lane.
If one decides for such a conversion at Eagle, the "new old" is no longer recognizable. The chassis is made entirely of aluminium and with one or the other part of magnesium and titanium, the weight moves only around 1000 kilograms, despite some improvements such as air conditioning, insulated interior and seat adjustments.
Hand was also applied to the chassis and engine. The new modernised suspension with triangular handlebars in combination with adjustable dampers ensures a smooth ride. A five-speed, instead of the original four-speed transmission, which transfers the power to the rear axle, helps the Lightweight GT from 0 to 100km/h in about 5 seconds, at a maximum speed of 275 km/h. An extension of the displacement of the in-line six-cylinder engine to 4.7 liters, coupled with new carburetors, also increases the performance to 380 hp at 508 newton meters. So it's worth taking a look at Uckfield with his E-Type.